abcMix Attend Hongkong Lighting Fair and Hong Kong Electronics Fair on April, 2019
Hong Kong, full name as Hong Kong Special Administrative Region of the People's Republic of China, is located in southern China. It faces Macau across the sea to the west, Shenzhen to the north, and Zhuhai to the south. The region includes Hong Kong Island, Kowloon, the New Territories and the surrounding 262 islands. The total land area is 1106.66 square kilometers, with a sea area of ​​1648.69 square kilometers. As of the end of 2020, the total population is 7,474,200, which is one of the most densely populated regions in the world. The average life expectancy is the highest in the world, and the human development index is fourth in the world.
Hong Kong is a place where Chinese and Western cultures blend. It combines Chinese wisdom with Western social management experience. It is world-renowned for its clean government, good public order, free economic system and perfect rule of law.
Hong Kong is a highly prosperous free port and international metropolis. It is the third largest financial center in the world comes after New York and London, an important international financial, trade, shipping center, and an international innovation and technology center. One of the freest economies and most competitive cities, enjoys a high reputation in the world, and is ranked third in the world's first-tier cities by GaWC.
Hong Kong is the world's 8th largest trading economy and one of the world's major exporters of garments, watches, jewellery, toys, games, electronics and certain light industrial products. In 2019, Hong Kong's total trade in goods was 8.4 trillion Hong Kong dollars, of which total goods exports were 4.0 trillion Hong Kong dollars and goods imports were 4.4 trillion Hong Kong dollars.
Due to the special geographical location, the highly prosperous economy and the open policy, there are many foreigners who settle, work, and travel to Hong Kong all year round. In addition to the level of trade development in Hong Kong itself, many factories and foreign trade companies are willing to participating in exhibitions in Hong Kong, makes it easier to communicate with customers face-to-face, and abcmix is no exception, abcMix attend Hongkong Lighting Fair and Hong Kong Electronics Fair on April, 2019.
As a leading designer and manufacturer of LED signages and LED sign boards from China, ABCMIX has brought plenty designed high quality signage products to the fair, such as LED Advertising Boards, Magnetic LED Letter Signs, P3 Magnetic Advertising Display, Double-sided 3D Advertising Projector and also other LED sign products.
Brief advantages of ABCMIX LED Signage Products:
Creative DIY
Free Mixing
Ready-Made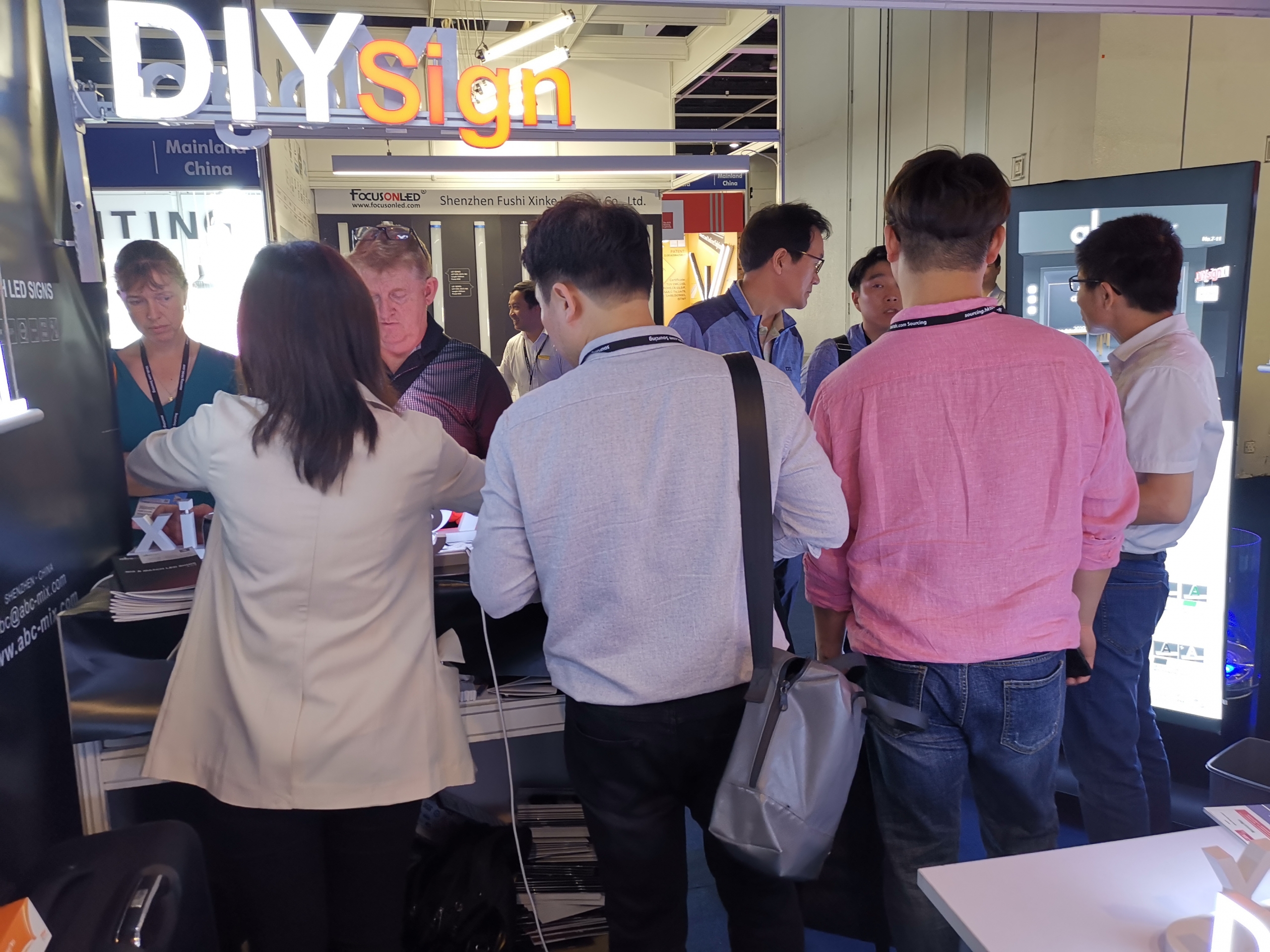 Throughout the fair, our products attracted a great deal of wholesalers, importers, traders and retail buyers, they showed a great insterests in our LED signs.
We wish to establish long-term business cooperation with wholesaler, importer and agent from Hongkong and other countries. If you are interested in our LED signage products or wish to be our local dealer, please don't hesitate to contact [email protected] or call: 0086-13580882371.
https://www.abcmix.com/wp-content/uploads/2021/10/abcMix-Attend-Hong-Kong-Electronics-Fair-on-April-2019-scaled.jpg
1920
2560
abcMix
http://abcmix.com/wp-content/uploads/2021/09/abcmix-logo-1.png
abcMix
2019-04-07 11:16:17
2021-10-19 11:20:44
abcMix Attend Hongkong Lighting Fair and Hong Kong Electronics Fair on April, 2019