abcMIX is professional DIY LED food and beverage shop signages manufacturer, supplier from China, we provide ready made, cost effective and easy installation LED signages for various food and beverage shop applications.
Food and beverage establishments have long had a tough time competing with their non-medical counterparts when it comes to marketing. It is simply too easy for them to get side tracked or lose their place in the competitive eating scene due to their inability to focus on more than two things at a time. This is where the LED food signage comes in as quite an improvement, not only because it's clear and easy to read but also because it has the potential of drawing attention to your food or beverage shop by the mere sight of it.
As you look for ways to advertise your food or beverage shop, the advantages of LED food signage become clearer. With today's recession and tough economic times, it is important to take every precaution in order to ensure that your business runs as smoothly as possible. The adventage of LED technology allows businesses to benefit from cost-effective, high-quality signs that can not only attract customers but can also inform them of sales or discounts. Because LED technology uses much less electricity than the fluorescent kind, you are able to save on your electricity bill, making LED food signage an excellent addition to your menu.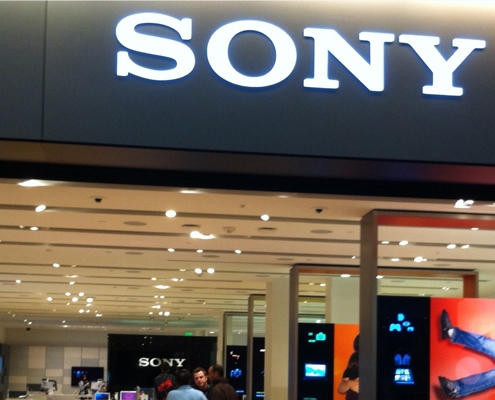 https://www.abcmix.com/wp-content/uploads/2021/10/abcMIX-LED-signages-for-Sony-retail-stores-logo-update-and-re-branding.jpg
400
925
abcMix
http://abcmix.com/wp-content/uploads/2021/09/abcmix-logo-1.png
abcMix
2021-10-21 12:46:55
2021-10-21 13:14:38
abcMIX LED signages for Sony retail stores logo update and re-branding
What is LED food signage
In the interior decoration of many themed restaurants, cafes and other places, the appearance of LED food signage is fashionable and retro, the lighting is soft, and it will not be dazzling when looking directly at it, which is very suitable for a soothing and relaxing environment. Whether it is romantic, nostalgic, festive or aesthetic, the LED food signage can always create a special atmosphere, which is a distinctive luminous signage.
LED is an abbreviation for light emitting diodes and the popularity of using this type of lighting has increased immensely over the years. These lights give out an even amount of light without the use of electricity and the savings you will have on your power bill is significant. LED's also last a long time, which means that your food marketing efforts are not only cost effective but they are also very consistent.
Another great thing about LED food signage is that it's very bright and you can actually read the labels more clearly when you are in the process of buying products for your business. You will also find that you can make better decisions on what foods you should offer your customers based on what they look like and how appetizing they are as well. This will make your restaurant stand out from the rest of your competition and people will come back again because they enjoy the experience of going to your restaurant. With the high demands for quality food, no matter what industry it is you are in, having great signage is essential to your success.
LED food signage can help you advertise your restaurant and you can take advantage of this marketing option whenever you need to. You don't need to rely on a boring neon sign to attract customers because there are some amazing products that are available that will get your message across without a problem at all. In fact, these signs are so attractive that your guests will be impressed enough to want to return to your restaurant often.
Why LED food signage is important for your food business
With the recent increase in awareness of nutrition and organic foods, the demand for organic and healthy food is at an all time high. The cost of organic food has come down dramatically over the last decade but the increased demand continues to drive the cost upward. As a result, it is imperative that you incorporate these healthier options into your menu items if you want to see an increase in profits. However, with traditional signage, you have no control over what types of advertising are being placed on your menu or promotional boards. This makes it impossible to avoid potential lawsuits as some people may associate your food business with advertisements for unhealthy products.
The use of LED food signage allows you to advertise healthier options and to attract new customers as well. Because these signs contain no logos or messages of your own, you do not need to worry about potential lawsuits. The LED technology used by most signage companies allows them to put any information on the board that they choose, so you can include nutrition facts and calorie counts. You can also highlight different types of foods or different ingredients included in your menus to make it more appealing to the general public.
LED Food Signage can help you increase sales, lower costs, and allow you to customize your promotions to better suit your customer's needs. Because it is possible to add up to three additional displays within one larger sign, your food business can draw in even more customers. Why not give it a try?
How much does LED food signage cost
When you start looking at food signage cases and LED signs for your business, the first thing you might notice is that these products cost a lot of money. This is because the case has to be made and built from scratch from a design that is specific to your business. The display unit also has to be purchased in bulk and then delivered and installed so it can support all of the different foods that your business serves. You need to realize, though, that when you purchase this type of product, you are actually saving yourself quite a bit on overhead costs. You should know that you will need someone to install it as well if you want to ensure that everything works the way it should.
LED signages, especially the ones that are made for food, are very simple items to use. You do not need to have any special tools or skills in order to get them up and running properly. In fact, you may even find that the materials that you need to buy can be purchased at a nearby store that sells food or a local hardware store. If you purchase them in bulk and install them correctly, you will find that it takes you a lot less time to prepare the food servings for your business than it did to prepare the displays before. This means that you will find that you can spend more time working on making your business a success rather than trying to keep your supplies full and your displays up and running.
Another thing to keep in mind is that it is possible to save a great deal of money by using this type of LED food signage. You should keep in mind that you will need to hire someone to install the display if you want to ensure that the product works properly. You will also need to pay for the labor costs associated with putting the display together and the final delivery of it to your customers. However, when you look at the price per serving and the savings that you can realize, it is easy to see that the cost of buying an LED food display is well worth it.
If you want to know detailed LED signage price for your food business, please contact [email protected] to get an instant quote, you will get more than satisifed.
How to make your own LED food signage
If you are a food and beverage business then one of the best tools you can use is LED food signage. This type of signage is easy to create, cheap to purchase and it's even environmentally friendly. LED food displays help advertise your products at fairs and other events. It has a much higher contrast ratio than traditional neon signage and it also has a much shorter lifespan, making it perfect for food businesses that want to save money on their advertising budget.
When creating your food signage, there are many different things you need to consider in order to make it as effective as possible. The most important thing you need to be sure of is the dimensions of your container. You should ensure that the container isn't too small to display your product because it won't attract customers and it also won't be able to provide enough storage space for your goods. Think about the type of product you're selling and the colors and designs that are suitable for your product. Food items sell better with bright colors and bold designs so make sure they are in a unique color or design.
Many LED food signages use red in their logo or vi design. This is not a coincidence. Every industry has a standard color system for each industry. Color is one of many strategies used by companies to establish contact with customers. . Among many food and beverage brands, those brand logos with bright colors and warm colors (such as red, orange, etc.) may attract consumers' attention more.
The other thing you should keep in mind when creating your LED food display is the shape and size of your food stands. Keep in mind that LED lights are way brighter than traditional fluorescent lights so if your stand is too small then it won't be able to create enough light and it will look smaller than it really is. If your stand is too large then it won't be able to display all of your products at once and customers won't be attracted to it. To increase the effectiveness of your LED food signage you should place them near counters where you can monitor your progress and check on the amount of product that you have.
And if you have considered above factors, you can come to abcmix.com for more detailed LED food signages, as we provide a standard, easy to install, uniform, cost-effective LED signages ( with 7 different sizes available ) for food and beverage business owners, as well as LED signage reseller, wholesaler, advertising company etc. If you are looking for reliable LED food signage supplier, please don't heisitate to contact [email protected] .
About abcMix
abcMIX is a leading LED signages manufacturer sinces 2003, for over 18 years, we have been designing, manufacturing, marketing and servving of creative LED signages that help business growing.
Contact Us
E-mail:

[email protected]

Phone: +86-755-29885829
Mobile: +86-13316998143
Address: 5th Building, Alley 2, 1st Industrial Zone, Jiazitang, Guangming District, Shenzhen City, Guangdong Province, China