abcMIX is a professional LED wall signages manufacturer, supplier from China, our LED wall signages features of ready-made, free mixing, easy do it your self, cost effective and more, suitable for banks, offices, parking lots, retail outlets, home and other indoor applications.
Although LED outdoor signs have been around for several years, their usage has only recently increased dramatically. LED signs are now found in a wide variety of places such as on the interior walls of stores and shopping center, in parking lot of department stores and other retail outlets, and even inside banks and other financial institutions. With such a wide variety of uses, it's not surprising that many commercial advertisers and businesses are discovering the advantages of LED wall signage. These LED signs offer businesses many advantages that previous outdoor signs don't provide, such as a more vibrant and clear image to draw customers in, longer life span, environmentally friendly features, and convenience of being able to quickly change the message on these signs to match current moods. Besides, abcMIX LED wall signages are also suitable for home, office and other indoor applications.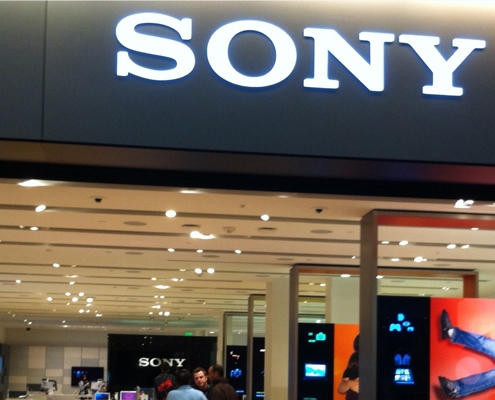 https://www.abcmix.com/wp-content/uploads/2021/10/abcMIX-LED-signages-for-Sony-retail-stores-logo-update-and-re-branding.jpg
400
925
abcMix
http://abcmix.com/wp-content/uploads/2021/09/abcmix-logo-1.png
abcMix
2021-10-21 12:46:55
2021-10-21 13:14:38
abcMIX LED signages for Sony retail stores logo update and re-branding
What is LED wall signage
What is LED wall signage? LED stands for light emitting diodes and these signs are a great way of advertising as they give off a lot of information in very little space. They are easy to read and can be placed anywhere as they do not take up a lot of room, the LED wall signage is the modern way of advertising.
LED wall signage is an effective way of advertising as it reaches a lot of people. You can place them in any location and unlike other traditional signs, you do not need to place them next to walls as they can go on any surface. You can place them in any corner where it looks good such as on the top of tables or along side desks. There is no other option to this type of wall sign than to use LED technology and as it lasts longer than any other signage, it proves to be cost effective.
You will also find that the information given out by the LED wall signage is very clear and you can change the words depending on the occasion. If you have any company details, products or any other information, you can change them anytime you like. These signs last for a very long time and you can choose to change them once in a while to give your room a fresh look but the LED technology ensures that you never have to bother with this. What is LED wall signage, you cannot go wrong with it.
Types of LED wall signage available
There are several types of LED wall signage that are available and it is important to be familiar with them before making your choice. LED (light emitting diode) wall signs can be used to enhance the beauty of a building or as part of a decor for a business or as both. They come in many shapes, sizes and colors so take some time to look at them all and decide what will best suit your needs.
Some people prefer to use LED wall displays to create an impact on a room. Using these devices to decorate walls can also have a positive effect on the atmosphere of any area. This is because they are quite bright and can be seen from a distance. LED wall signs may not be suitable for rooms that are too dark to put up other types of decoration, but when placed in areas that are well lighted, they can really help to brighten up the area and add style. Another advantage of this type of signage is that it is energy efficient and long lasting so you are likely to save money on your electricity bills by choosing this type of wall advertisement.
LED wall signs can be found at most retail stores and with some manufacturers, they are available online as well. Take a look online and find one that suits your requirements and budget. If you wish to find an individual seller, then speak to your friends and family and try to get recommendations. Finally, if you cannot find any LED wall signs that you like in the size and shape you need, you can always try a custom made sign.
How much does LED wall signage cost
Wall signage is a growing trend for companies and retailers. Increasingly, stores use LED signs to display their logos and showcase product information and features. There are many advantages to these types of signs. They're easy to install, they're low-cost, and they can be made with any type of material – even glass.
But before you run right out and buy one, there are a few things that you need to consider first. How much do you want to spend on this? It's a good idea to take a look at the sign itself and determine what kind of material it is. If you want a sign that is appealing, colorful, and stands out, then you'll want something colorful and reflective. On the other hand, if you need a sign that blends in and doesn't stand out, then you should go with plainer materials.
It's also important to consider the size and shape of your sign. Make sure that it will fit in its location and that it isn't too big or too small. If it isn't the perfect size, it might interfere with the operation of your equipment or it might not hang as well in your space. As with anything else, don't try and cut corners – it's important to get the best value for your money.
Where to buy LED wall signage
If you're looking for a fast and easy way to find where to buy LED wall signage, then the internet is your best bet. The fact of the matter is that these signs are very popular, and you will find plenty of different companies that sell them. You might even be able to find some suppliers online that you can purchase from! However, when you buy online, there is nothing to guarantee. You never know what kind of quality you're going to get, and it's easy to end up buying some counterfeit or sub standard products if you're not careful.
So what should you be looking for when you're shopping online? First of all, you want to make sure that you are getting an affordable product. Look at the size of the display, as well as what kind of material the sign is made out of. For example, if you really want to find where to buy LED wall signage online, then you need to make sure that you're in fact getting LED panels. These signs are becoming increasingly popular, but are still quite expensive.
If you're looking for cheap signs that you can install on your own, then you should look for websites that offer a DIY service. Usually, these services will be able to provide you with the materials that you need for next to no cost. This means that you'll be able to install your own panels, so that you'll have an inexpensive product that you can use in a number of different situations. If you're not able to do this by yourself, then you'll want to consider spending a little bit more on the item in order to make it easier for you.
About abcMix
abcMIX is a leading LED signages manufacturer sinces 2003, for over 18 years, we have been designing, manufacturing, marketing and servving of creative LED signages that help business growing.
Contact Us
E-mail:

[email protected]

Phone: +86-755-29885829
Mobile: +86-13316998143
Address: 5th Building, Alley 2, 1st Industrial Zone, Jiazitang, Guangming District, Shenzhen City, Guangdong Province, China